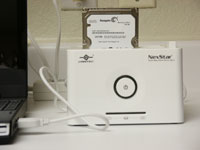 (Enlarge)
Hardware: Vantec, NexStar Dual Bay Hard Drive Dock; Model NST-D200SU. You can get the device from CyberGuys.
Software (for Windows 7 Ultimate): Acronis True Image Home 2011. You can get the software from Acronis.
As you can see, I've got my clone hard drive in the hardware device so I can clone the hard drive in the netbook.