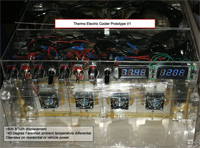 (Enlarge)
This was the first prototype of the thermo-electric cooling system concept.

While this version ran on AC or vehicle DC power, with approximately 806 BTU output, most of it relied on conventional, mass-produced hardware. The largest problem that was encountered was that it would overheat in fairly short order. As an example, you can see that the temperature difference between the exhaust and cooling stream is over 40 degrees (and would continue to rise). As may be imagined that resulted in thermic conduction that would negate any cooling effect.

I guess that is what creating things is all about.